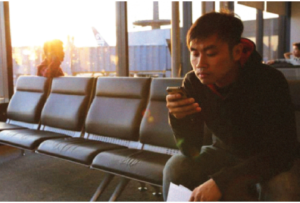 This interview was also published in Karyawan, A Magazine by the Association of Muslim Professionals (AMP), July 2018, Volume 13, Issue 3.
Humans have always been fascinated with creating art or illusions that trick our eyes. From perspective tricks in murals to the exhibits at Trick Eye Museum Singapore, we delight in deceiving our senses.
As more becomes technically possible, technology and human creativity are constantly pushing the boundaries of what can be achieved to leave spectators in awe. Projection technology for instance, has been used for decades to project films or presentations onto white screens. Today, projection mapping is one of the fresh media of this grand tradition, and is available to paint our world in ways that are only limited by our imagination.
Projection mapping is a spatial augmented reality created by a highly skilled team of projection technology professionals to turn backdrops or objects into projection surfaces. The software spatially maps a 2D or 3D surface and interacts with the projector to fit the image onto a physical object and align with its features. Using stunning high-tech visual effects to transform a brand space including skyscrapers, sculptures or any ordinary objects into glowing, kinetic art, each performance is spellbinding, engaging, and creates a whole new league for communication and an incredibly exciting visual experience.
Projection mapping has firmly entered the public consciousness in Singapore through major public events such as the Gardens Extravaganza at Gardens by the Bay, the I-light Marina Bay and the Singapore Night Festival at the National Museum of Singapore.
This spatial augmented reality technology adds extra dimensions and optical illusions, to turn static objects into a dynamic animated display. The audio visual presentation can be personalised to incorporate branding, logos and messages, making it perfect for advertising, product launches and more.
If you are looking for both a large-scale and breathtaking spectacle, projection mapping performance should be at the top of the list. When executed correctly, projection mapping will undoubtedly leave spectators in amazement, which makes projection mapping one of the most desired services any event company can deliver. The Karyawan team was fortunate to interview Shaiful Bahree who has been in this field for six years. He has been involved in various projects that utilise this technology and is now technical director of A Creative Concept Pte Ltd, a company that offers projection mapping services.
Q.:  Could you tell us more about yourself?
Shaiful: I am 33 years old and have been happily married for 2 years. My wife is a Motion Graphics Artist whom I met while working in the same industry. We also rescued a furry kid named Oreo (a Scottish fold kitten, to be precise) so that we can share our love with her. I am the eldest child and only son in a family of four. I have a younger sister who works in the medical industry.
I graduated with a Higher NITEC in Computer Technology in Higher NITEC. Soon after graduation, I did some freelance work in a technical position right until I completed my National Service. After that I took up a part-time course for the Diploma in Multimedia at the Nanyang Academy of Fine Arts (NAFA). Sadly, after a year, I dropped out from the course due to financial difficulties. But that did not hinder me from continuing to seek knowledge elsewhere. After a few years of working here and there, I secured my first full-time job and once I was financially stable, I decided to take on a part-time course at The Media Academy. I eventually graduated with a Diploma in Media and Television. Although I have now been working in this industry for 12 years, I still try to keep myself relevant through lifelong learning by taking other part-time courses on various software that are job-related.
Q:   Could you share with us what the company does and what a typical working day for you is like?
Shaiful: The company specialises in Event Concepts and Technical Services. My team and I will brainstorm on the theme and storyboard to create and produce an unforgettable show experience for our clients.
A typical day at work runs from 9am to 6pm for offline jobs on weekdays. However, depending on the event itself, sometimes a work day can drag into the late night on weekdays or over the weekend. At times, the job will require me to travel. The longest I've been away is for a three-month overseas stint. I had also attended a four-week course in Los Angeles once to have a better understanding of the Mapping Server technology.  It was definitely an eye-opening and fun experience learning from the specialists there.
Q:   Could you briefly explain what projection mapping is about?
Shaiful: Projection Mapping is currently a medium that is gaining more popularity and exposure in the media industry.
Firstly, lights from the projectors are used to map onto a surface, turning a common 3D object into an interactive display. It comprises a storytelling narrative through a synchronisation of audio (sound) and video (motion). Hence, motion graphics and creative coding are used to display a highly engaging content, so that it creates experiences in terms of look and feel to the viewers in a 3 dimensional reality.
This process however, is not a simple task as many factors must be taken into account for the process to begin. Firstly, the projection area can be indoors or outdoors. The most important thing before beginning any project is that each individual needs to understand the process in applying the brightness level, the view angle of the audience and the type of animated content.
The process usually starts with scanning the surface to be projected on, then with a special software, we skew the 2-dimensional content from the projector to make it appear as a 3-dimensional reality. This is where optical illusion can also be applied in projection mapping.
Q.:  What are the tools or software used and what is the average budget for a project that incorporates projection mapping?
Shaiful: We use tools such as high over specification PC desktop, servers to produce 4K content and multiple outputs. I have used many different software over the years to find the right tool for the right job. You can research online for the various software suitable for your different needs.
Q:  What are some of the major events in Singapore that utilise projection mapping?
Shaiful: Earlier this year, the National Gallery Singapore had a "Light to Night Festival 2018: Colour Sensations". Projection mapping was also used during the 2015 Opening Ceremony of the 28th SEA Games, National Day Celebration Series and the Sentosa Merlion Light Display Projection Mapping.
Q:   What are the skills or qualification required in this industry and is there a demand for these skills or career in Singapore?
Shaiful: You will need technical skills in Computer and Video technology and also a Production and Content design qualification. And yes, there is a demand for these skills. Nowadays, I see a lot of youth engaging in such media content and showing off their works in art exhibitions as well as youth festivals.
Q:  What motivated you to join this industry?
Shaiful: It all started back when I was 14 years old, a young kid saving up for enough pocket money to buy limited edition trading cards. I worked as a part-time AV technician doing set-up with my uncle during the weekend and school holidays. It was tiring yet fun working with him on all those projects.
My interest continued to grow and I would ask for advice and tips from my uncle and the veterans who had done big shows and concerts previously. In 2010, I joined a small company and did a 3D mapping project on a luxury car. It was intense and tough as technology wasn't as advanced then.
Q:   What were some of the projects that you were involved in, here in Singapore? Can you walk us through your creative process, from the moment a client contacts you, to the actual show?
Shaiful: I have done mostly indoor projects. The biggest project I did was for a private Indonesian wedding held at Clifford Pier. I have also worked on the 'X-Men: Days Of Future Past' Singapore premiere, several big corporate events and Garena Karnival 2015 (an online gaming tournament).
Usually the client will brief me on the project, and their expectations and goals. We will then discuss on a suitable venue for the project. Once we have agreed on this, we will then head out for a site inspection. From there, we will gather all the blueprints, measurements and pictures of the venue. We will brainstorm and create a concept/theme for our clients. Once finalised, it all comes down to the production, technical, content development and scheduled meetings as the dates come nearer, to update on the workflow.
A few days before the event day, we will have a final meeting to ensure everything is in place. I often need to plan ahead and it is necessary that we always have a backup plan for unforeseen circumstances.
Q.:  What are some of the challenges, if any, being in this industry?
Shaiful: Challenges often come in the form of miscommunication, time zone differences and a developed sleep disorder.
Technology also changes quickly over the years. Hence, I have to always keep up with these changes so that I can remain relevant and don't get left behind in the industry.
One also needs to be physically and mentally fit as the job entails working long hours as well as dealing with the pressure of technical problems on site.
Lastly, updating your skills set can be tough as it is expensive.
Q:   What has been your satisfying moment throughout your career in this industry?
Shaiful: When I see the works on the big screen, when the audience are amazed by the works and I see the appreciation in their eyes. Also, when the client conveys his or her gratitude for all the hard planning and work.
Q:   Do you think the Malay/Muslim community in Singapore are well exposed to this technology and industry? Are there many Malay/Muslims who are in this field and with these skills?
Shaiful: Based on my observation, there are currently a few Malay/Muslim individuals in the industry. Having more Malay/Muslims thriving in this industry may bring about better competition and greater exposure to the Malay/Muslim community.
Q:  What is your advice for the younger generation in our community, who wants to pursue this career?
Shaiful: The journey will be tough, hence they will need to be prepared to expect the unexpected.  Learn as much as you can, while seeking a place in the industry, and persevere.
Most importantly, I live by these words: Be passionate, be determined, stay focused and always be humble.
Nabilah Mohammad is a Research Analyst at the Centre for Research on Islamic and Malay Affairs (RIMA). She holds a Bachelor of Science in Psychology and a Specialist Diploma in Statistics and Data Mining.
Photo Credit: Karyawan/Mr Shaiful Bahree