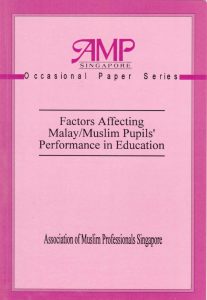 by Haffidz A. Hamid, Mohd Azhar Khalid, Mohd Alami Musa and Yusof Sulaiman
Published: 1995
ISBN: 981-00-6716-X
This paper is a revision of an earlier draft that was presented at a seminar organized by the Association of Muslim Professionals (AMP) on 10 December 1994 at Royal Holiday Inn Crowne Plaza Hotel, Singapore.
This paper presents the findings of a research study on factors affecting Malay/Muslim pupils' performance in education. An analysis of these factors was carried out and a package of strategies was recommended to improve the performance of Malay/Muslim pupils in schools.
To purchase, please email to enquiry@rima.sg. Also available at the national library.