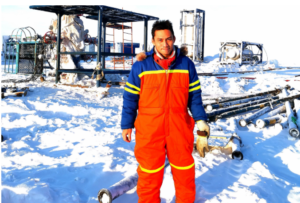 This interview was also published in Karyawan, A Magazine by AMP Singapore, April 2020, Volume 5, Issue 2.
There has been an increasing demand for oil and gas as global economies and infrastructure continue to rely heavily on petroleum-based products. The oil and gas industry contributes around five per cent of Singapore's gross domestic product.
However, a profession in this industry is uncommon especially among the younger generations. According to a 2019 study by Abu Dhabi National Oil Co.[1], millennials and Gen Z are more drawn to careers in technology-driven sectors and perceive the oil and gas industry as low-tech, blue-collar and dangerous to the environment.
Similarly, Erza Aripin, 45, had no plans of joining the oil and gas industry. He was at the peak of his football career when he decided to quit and continue his studies in electrical and electronics engineering at the University of Aberdeen at the age of 27.
He was later recruited by a leading energy technology company after he completed his degree.
Now, with 15 years' experience in a profession that requires teamwork, precise calculations and has no room for error, Erza shares his experiences and the challenges of his job with the Karyawan team.
Q: Could you tell us more about yourself and your family?
Erza: I am happily married with two boys aged 9 and 14. My wife is an English teacher at Victoria School. I studied electrical engineering at Ngee Ann Polytechnic from 1994 to 1997. I took the course since Mathematics and Physics were my strong subjects. Even though I wasn't a straight-A student, I managed to complete my studies.
I am an active sportsman with an AFC C License coaching certificate who loves to run, walk, swim and play tennis. I used to play football for the schools I was in, the Singapore national youth teams, Home United and Tanjong Pagar United in the S-League (1998-2002), the University of Aberdeen in the British University Games (2002-2003) and the Grampian Police Team for the Aberdeen State League (2003-2006). I also had a training stint in Belgium for Templeuve Football Club in 2002 and represented Singapore in the Subbuteo World Cup in Italia 1990.
During my free time, I like to read books on the history of the world wars, famous leaders and artists, current world affairs and sports in general. I love to travel with my family, and my love for football has made me learn French, Spanish and Italian.
Q: What made you join the oil and gas industry?
Erza: When I continued my studies in Scotland, I didn't know that Aberdeen was the oil capital of Europe. Everyone dreams of getting hired by the big oil companies there such as BP, Shell and Halliburton.
Scotland had this scheme where international foreign students could extend their stay upon graduation and seek employment. So upon completing my degree in July 2004, I tried my luck at getting a job.
I applied for the Trainee Repair Maintenance Technician position at Baker Hughes Portlethen and was offered the position in August 2004. I stayed in the UK for another two years before returning to Singapore to join Halliburton as an engineer in 2006, and Weatherford International in 2012. I have been with JFE Steel (Japan Iron Engineering) mainly for the oil country tubular goods (OCTG) offshore completion piping division since 2015.
Q: What does your job entail?
Erza: I am currently a technical representative with the JFE Technical Centre. We specialise in providing OCTG piping and connections for offshore/onshore completion process when the hydrocarbon (gas or oil) is extracted from the well as deep as 7 kilometres beneath the seabed.
At the workshop (onshore), we have to ensure that the threading plant threads our connections in accordance with our product specifications. We have gauges to measure the connections and product drawings for references. The pipes are not made of common metals or steels. Some are carbon, chrome or high chromium steel, and it all depends on the well's contents as the pipes will be in the well for at least a or 20-year cycle to extract the the hydrocarbon beneath.
Our main duties offshore are to ensure the pipes are connected correctly with references to the chart graph. Any misalignment or pipe slippage could damage the threads or worse, cause leakage during pressure testing. I have to certify that the pipes are connected in accordance with our specifications.
Q: What is your typical work day like?
Erza: If we work onshore at the workshop or thread milling plant, we have to ensure that all the equipment and piping connections are manufactured according to our specifications, discuss with vendors on work planning, perform make-up on completion assemblies and pressure test, check on quality, perform audits and attend pre-offshore meetings with clients.
For offshore work, we have to ensure that our completion pipe connections are good, inspect equipment and be on standby for completion running. At times, we would have to stay on the rig site for two to three weeks before the actual job starts. The completion process would take two to five days depending on the depth of the well. We work a 12-hour shift, and at times, we would have to work longer hours due to problems on the rig floor. The job can start at any time so we have to be ready even if it is during our sleep or rest time.
Q: What is it like living on an offshore oil platform?
Erza: Living on an offshore platform can be good and bad, depending on the kind of platform we are on. If it's a jack-up rig, which is a platform with three legs embedded on the seabed, then it is normally good. It is stable even though we can feel the whole platform vibrating during strong winds or bad weather. We also have drillships,
semi-submersible platforms, and tender rigs. Tender rigs can be bad during turbulence and strong winds since they are on a small ship in the middle of the open sea.
We have our dormitories or cabins where we share a room with two or four others. There are leisure rooms for us to relax in, offices where we can do our paperwork, and meeting and radio rooms for us to make calls or send emails. If the signal is good, we can even send WhatsApp messages to our families. Food and drinks offshore are a luxury, where you can take and eat whatever you like at the galley or pantry with meals served four times a day.
If we are deployed for onshore-based jobs in the jungle or desert, we stay in camp-like accommodations for two to three weeks. These areas are usually far from the nearest towns or cities and are very remote. The rig site is normally two to five kilometres away from the campsite, so transport arrangements are made to take us to and fro.
Q: What are the common misconceptions people have about working on an oil rig? Is it true that it is a dangerous job?
Erza: People always say that working offshore or in the oil and gas industry pays well. Yes, this is true as we are paid an allowance for our travelling and offshore duties. But it comes with hardship that we face while travelling or at work and being away from our family most of the time. We need to make a lot of sacrifices.
There are risks in any type of work. For us, we face danger even during our journey to work locations. We fly to a particular city and upon arrival at the airport, there will be transport to take us to the heliport, port or campsite. The journey sometimes takes one or two days. At times, we receive internal news about helicopter crashes or fatal accidents on rig sites. Taking a helicopter to offshore platforms can be scary especially when we face turbulence or strong winds while cruising.
On the platforms, there are many hazardous situations that we need to be alert of. There are always safety briefings and steps to take prior to starting work. We need to be alert all the time and look out for one another on the platforms.
But I treasure the work experiences – travelling, meeting people and making new friends from all over the world – more than the monetary gain in this line of work.
Q: Working in this industry usually requires you to travel. Which countries have you worked in? Which was the most challenging, and why?
Erza: I have worked in the US, Norway, UK, Russia, UAE, Oman, India, Thailand, China, Vietnam, Indonesia, Malaysia, Australia and New Zealand. I have worked in the Middle Eastern deserts during summer where the temperature could be between 45 and 55 degrees Celsius. It gets really hot in the day, and if we oversleep and wake up around 10 am, there is no chance to shower as the water would be scorching hot by then. During winter in Siberia, the temperature is between -25 and -55 degrees Celsius. It is not only tough and dangerous to work outdoors in such extreme weather conditions, but also to shower, use the toilet and sleep in the camp.
Q: What are the challenges of your job and working overseas?
Erza: We must quickly adapt to new environments since we travel to different places every now and then, working with people from different countries. We can't be fussy and expect the places we go to be up to our expectations. When it comes to halal food, some places we go can be challenging. If we work in China, Thailand, Vietnam, Myanmar or remote places in Australia and Texas where halal food can't be obtained easily, I apply this policy of 'eat what you can'. We also need to adapt when we share the same dormitory with other nationals like those from India, Philippines, China, Africa and others. Sometimes, there are language barriers and some don't even want to talk to you or make eye contact with you.
Q : How do you cope with being away from family and friends? Are you able to communicate with them often?
Erza: I am thankful that my wife and two boys are supportive and understand my job. There were times when we made plans for a vacation but I had to travel for work at the last minute. Sometimes I miss birthday celebrations, family gatherings, weddings and funerals. I may not even be around for Ramadan and Hari Raya. Sometimes, we are able to communicate over the phone or through WhatsApp. We don't talk for hours, we just say hello and ask how things  are. I do update my wife from time to time when I'm offshore, but it is not the same as when we are together in person.
 Q: Do you have any advice for Malay/Muslim youths who want to pursue a career like yours? Would you recommend it?
Erza: Yes, I would recommend our Malay/Muslim youths to pursue a career in this line. Not just for the money, but for the life experiences and networks we build along the way. Travelling has made me more adaptable to the different environments quickly and easily.
1 Faiza, R. 2020 Energy Innovators: Fueling the Next-Generation Workforce. January 1, 2020. Available at: https://www.hartenergy.com/exclusives/fueling-next-generation-workforce-184760.
Nur Diyana Jalil is currently an Executive at the Centre for Research on Islamic and Malay Affairs (RIMA) who manages its social media, events and publication. She loves to read, travel and write occasionally.
Photo credit : Mr Erza Aripin