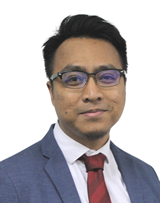 Mr Muhammad Tarmizi Abdul Wahid
Mr Muhammad Tarmizi Abdul Wahid is an accomplished speaker, author and a businessman with more than 10 years of experience in the Islamic eco-system. Besides juggling solemnization duties on the weekend, he takes pride in providing the best coaching services to people seeking advice regarding life, marriage and business.
He is currently highly in demand as a speaker in Singapore, Malaysia and Brunei. Through writing, he shares tweets and messages that inspire people. He is known for his best-selling book, The Art of Letting God. He has written other books titled Call Upon Him and You Are loved. Being committed to inspire others, he decided to host his own podcast channel called 'The Mizi Wahid Podcast', where he addresses issues surrounding faith, family and future. He also co-host 'The Good Life Podcast' channel which hit the top 5 charts in Singapore and Malaysia.
Mr Tarmizi is the founder and CEO of Safinah Holdings Pte Ltd, a modern and progressive Islamic organisation. The reach he gained through Safinah Institute has surpassed 30,000 over the past 10 years, some which led to sold out events. In 2020, became a founding partner to YOUM Pte Ltd, which focuses on the young Muslims all over the world. In addition to that, a founder of Shariff Holdings Pte Ltd, an investment holding company that looks into Edu-centric media for the Southeast Asian community. He is currently the director of Mizium Pte Ltd, a digital marketing agency that provides training and consultancy to improve a brand's positioning. Through Mizium's services, he hopes to increase an online presence and manage content creation efforts for clients.