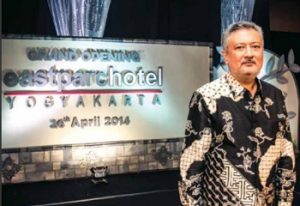 This interview was also published in Karyawan, A Magazine by the Association of Muslim Professionals (AMP), April 2018, Volume 13, Issue 2.
Years ago, taking advantage of market anomalies in other countries may seem unfeasible, but these days, setting up a business abroad might not be as difficult as we perceived. In fact, it may be less risky, and more economically sound than launching one in your home country.
Indonesia for instance, has experienced continued and robust economic growth in recent years. The country is also seeing a rise in their middle class community. This has created opportunities and fuelled demand for more quality and greater variety of services and infrastructure in Indonesia, especially in the hotel industry. The increased business activity and the rising trend of tourist arrivals are triggering demand for more hotel rooms. In addition to Jakarta and Bali, Indonesia also offers various investment opportunities in more than 100 cities and one of them is the city of culture and tourism – Yogyakarta.
Local Malay / Muslim traders in Singapore are now more open to venturing into and investing in multimillion-dollar businesses in regional countries such as Indonesia. One example is Khalid Omar Abdat who launched Eastparc Hotel, a halal five-star accommodation that houses 193 rooms in the heart of Yogyakarta. Eastparc was officially launched in October 2013 and has since garnered many positive reviews on TripAdvisor and high ratings on various big online travel agencies (OTA) including Agoda, Expedia and Booking.com.
The hospitality industry is much more than checking guests in and out. It is among the most economically fragile, capital-intensive and failure-prone forms of business in the market. The trade is much broader than most other industries and requires an understanding of a number of defining aspects, including customer satisfaction and its heavy reliance on disposable income and leisure time.  If disposable income decreases due to a recession, for instance, the hotel industry are often the first to suffer, because customers won't have the luxury to spend on their services.
Indeed, delving into the hotel industry is no easy feat, especially if you're thinking of starting one overseas, but it can be an exciting journey with its own set of obstacles.
Khalid Abdat shares his perspective with the Karyawan team on how to strive for success in this lucrative trade.
Q: Could you tell us about yourself ?
Khalid: I'm 58 years old this year and I have three children. I was born in Penang but I'm a Singapore citizen. I grew up in Kampung Batak and went to Victoria School before pursuing my tertiary education at Singapore Polytechnic for three years. Upon graduating with a diploma in Mechanical Engineering, I worked in a shipyard for about two years before starting my entrepreneurial venture.
Prior to the hotel industry, I was pursuing a few different trades. I was in the furniture business and operated Bella Interiors for about 10 years. I then started a women's apparel business called Jelita boutique along with a spa known as SpaJelita, for about another 10 years. Towards the end of the clothing line business, I ventured into property. I bought old properties including old bungalows, then renovated them before selling them back at a profit. It was through this business where I gained experience in property management, which eventually helped me thrive in the hotel industry.
Q: Are your family members also entrepreneurs?
Khalid: My father was a trader but he was initially against the idea of me venturing into business. In fact, he was grooming me to work because he knew it was tough to run a business. However, when he saw my potential, he grew supportive of my entrepreneurial spirit.
I personally encourage my kids to be entrepreneurs. My daughter now has her own business called Sahara Shawl, while one of my sons is with me running the hotel. My last son is still in school at Victoria School and hopefully, he would be interested in business like the rest.
Q: What motivated you to enter the hotel industry and why was Yogyakarta chosen?
Khalid: When I was operating the Jelita boutique, I was liaising with, and getting my supplies from, people in Yogyakarta, so I was familiar with the place. There was also a boom in Indonesia's air travel and I saw Yogyakarta was lacking in hotels. When I bought the land in 2010, people were building hotels in other cities. There were earthquakes in Yogyakarta at that time too, so investors were skeptical to build hotels there. I decided to swim against the current and took the risk to build a hotel in Yogyakarta anyway. Honestly, I didn't really have a concrete plan. I saw the opportunity, seized it, and took action.
Q: What is unique about your hotel and what is your competitive advantage?
Khalid: We are a halal, five-star garden-themed hotel. The hotel is a combination of lavish architecture and contemporary facilities. We had a Singapore architect design our hotel. The theme of the hotel is modern tropical with lots of trees and greeneries.
We don't serve alcohol and we don't have any lounges or bars. We have a diverse customer base including the Muslim community and the Meetings, Incentive Travel, Conferences and Exhibitions (MICE) market. Our hotel also offers children facilities so it is children- and family- friendly. In addition to the standard facilities that every hotel offer, there are also kids movies, kids playground, and kids pool with slides. The hotel employs about 350 staff members, both full-time and part-time. Our employees are largely from Yogyakarta.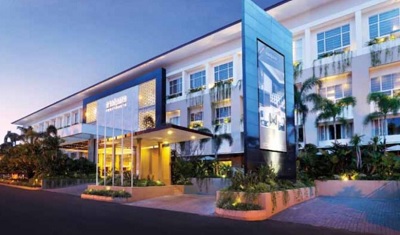 Q: What have been the highlights of your career so far?
Khalid: Eastparc is the highlight of my career. Of course, I'm always looking to expand, but Eastparc has been the pinnacle of my effort.
Q: What are your thoughts on the business opportunities that are available for the Malay / Muslim community in Singapore?
Khalid: If the Malay/Muslim community wants to grow and seize the opportunities in business, they should consider going to Indonesia. One particular strength that the community has, is in the catering or the food & beverage industry. The biggest opportunity for them right now is in Bali, because Bali is opening up to the Muslim community. Muslims from all over the world are coming to Bali but there is a lack of halal food.
In addition, Singapore Malay/Muslims are familiar with the language and customs in Indonesia so they should capitalise on this advantage. The Indonesian market also has a low cost base so it would be much cheaper to launch a business there. Production and salary costs are also relatively low.  In addition, the middle-income Muslim community in Indonesia is growing, and because of this, investments in halal restaurants and hotels are in demand.
I believe that if you can deliver quality and value, everyone will support your business, including the non-Malay/Muslim community. This is based on my experience. The Malay/Muslim community needs to have courage, find a local partner and explore the opportunities that are available.
Q: What plans do you have for the future?
Khalid: I have a new team of 20 to 30 people that is headed by a Singaporean, and we are coming up with IT solutions for the hotel industry. I'm also engaging a team to develop a Property Management System to manage other hotels. In addition, I am working on building my own small Online Travel Agency (OTA). I'm hoping to launch all of these in 2019.
I am also currently in talks with another party to build a beachfront hotel in Central Java. We are still in the planning stages and I am looking for various possibilities and opportunities. Singapore has a good reputation, especially our efficiency, so we should take advantage of this.
I hope to inspire the Malay/Muslim community to invest in the Indonesian market. I believe the community has the expertise in certain areas that are valuable in tapping into the market. In fact, there are already a number of top-level Singaporean executives in Indonesian companies, but not many are doing business in Indonesia.
Q: What advice would you give to aspiring Malay/Muslim entrepreneurs?
Khalid: Aspiring entrepreneurs should start young and look beyond economic data to understand where the best opportunities lie, and use that analysis to guide their decisions and strategies. For instance, the Indonesian market is rising rapidly and this is actually a big opportunity for the community. The Malay/Muslim community in Singapore should capitalise on the booming upper middle class in Indonesia and our language advantage.
Nabilah Mohammad is a Research Analyst at the Centre for Research on Islamic and Malay Affairs (RIMA). She holds a Bachelor of Science in Psychology and a Specialist Diploma in Statistics and Data Mining.
Photo Credit: Karyawan/Mr Khalid Abdat