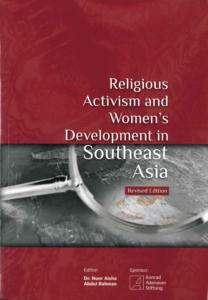 Publisher: Centre for Research on Islamic and Malay Affairs (RIMA) and the Konrad Adenauer Stiftung (KAS)
ISBN: 978-981-07-1245-7
Published: 2012
No. of pages: 356
This revised publication is the outcome of the Conference on Religious Activism and Women's Development in Southeast Asia, held in Singapore, 20-21 November 2009. The Conference was organised by the Centre for Research on Islamic and Malay Affairs (RIMA).
Contents
Expanding the Horizons of Possibility in Muslim Normative Religio-Cultural Life by Farish A Noor
Dominant Ideas in Scholarship on Women and Religion
Dominant Themes in Contemporary Scholarship on Islam and Women by Noor Aisha Abdul Rahaman
Rereading Buddhist Tradition, Redressing Problems for Women in Thai Societyby Suwanna Satha-Anand
Patriarchal Christianity in Asia and the Challenge of Feminist Scholarship by Mathew Mathews
"I am chosen by God…": The Rule of Sulatanah Safiatuddin Syah of Aceh Dar al-Salam 1641-75 by Sher Banu A Latiff Khan
The Religious Elite and Perceptions of Women
The Religious Elite and Perceptions of Women in Indonesia by Elga Joan Sarapung
The Religious Elite and Perceptions of Women from the Buddhist Perspective in Thailand by Parichart Suwanbubbha
Muslim Elites' Perceptions of Women: A General Survey by Pradana Boy Zulian
Women, the Family and Reproductive Health
Roles and Challenges for Muslim Women in the Restive Southern Border Provinces of Thailand by Angkhana Neelapaijit
The Syariah in Malaysia: With a Focus on the Muslim Family and Poverty by Maznah Mohamad
The War on Women's Bodies: Religious Fundamentalisms and the Struggle for Reproductive and Sexual Rights by Sylvia Estrada-Claudio
Women and the Law
Women and the Law: The Case of the Muslims in the Philippines by Mariam A V Mastura
Muslim Personal Law in Singapore and Issues Affecting Women by Halijah Mohamad
The Impact of International Instruments on Women's Rights and Family Well-Being in Malaysia: Challenges and Prospects for Reform by Najibah Mohd Zin
Islamic Family Law and Women Empowerment in Indonesia: Legal Reforms and Judges' Works by Euis Nurlaelawati
Women, Education and Social Change
Muslim Women, Education and Social Change: A Philippine Case  by Amina Rasul-Bernardo
Toward Just Marital Law in Indonesia: Promoting Gender Equality in Islam by Siti Musdah Mulia
Women and the Politics of Social Movements
Islamic Feminism and Gender Justice: A Reflection from Indonesia by Lily Zakiyah Munir
The Struggle for Gender Equality as Social Movement: Dilemmas and Challenges by Aurora Javate de Dios
Women and the Politics of Social Movement in Malaysia by Shariza Kamarudin
To purchase, please email us at enquiry@rima.sg.