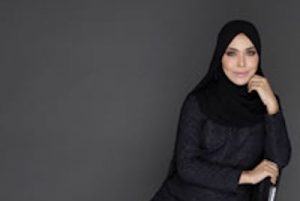 This interview was also published in Karyawan, A Magazine by the Association of Muslim Professionals (AMP), January 2018, Volume 13, Issue 1.
The fashion industry is increasingly catching on to the needs of Muslim women looking for modest and chic clothing. Modest fashion, design, and stylists are now coming to the forefront of society and markets. All around the world, important economic discussions are starting to include modest fashion. In fact, according to the latest Global Islamic Economy report, the global modest fashion market is forecasted to be worth USD327 billion by 2020.
Given Singapore's small Muslim population, modest fashion is largely seen as a niche business here. However, several local modest fashion entrepreneurs have recently made media headlines, drawing attention to the potential of the modest fashion trade, including Adlina Anis.
Graduating with a Diploma in Apparel Design & Merchandising from Temasek Polytechnic's School of Design in Singapore, Adlina actually took a longer route in her academic journey, going through a course at the Institute of Technical Education (ITE) first. However, it was this alternative pathway that made it possible for her to discover and earn the relevant skills and experiences she needed today.
After getting several years of experience through internships and working in the publishing industry, Adlina took a leap of faith and ventured into the world of entrepreneurship. She founded Adlinaanis.com, an e-commerce store that stocks her beautiful collection of hijabs (headscarves) and clothing line. The establishment has since grown to become one of the leading players in the modest fashion industry in the region. The brand recently made waves internationally when the entrepreneur shook the industry after launching a series of genius innovative hijabs including the Ninja Echo, which allows wearers to conveniently plug in their earphones through slits in the hijab, and the Vizi Shawls which allows wearers to conveniently slide in their glasses through the hijab.
Indeed, the path to the winners' stage is not always a fast or direct one. It is this long ride that pays you dividends and grants you the skills you need to hang on to the success you earn. Eventually, you will be in a better position for more sustainable, enduring success, just like Adlina.
Q: Could you tell us about yourself?
Adlina: I come from a family of six, and I am the third of four children. I'm 35 this year and happily married. Growing up, I attended Ngee Ann Primary School and later Greenview Secondary School. When I received my 'O' levels result, I realised it wasn't enough to get me to my preferred course in polytechnic, which was Mass Communication at that time, so I decided to take the longer route via Institute of Technical Education (ITE) in Bishan. I did quite well there and managed to advance to Temasek Polytechnic where I pursued fashion design in their School of Design. It turns out that a slower pace did turn out better in the long run for me.
Q: What was growing up like for you?
Adlina: We weren't really well off. My parents worked very hard to raise all of us. Back then, my family was living in a one-room flat. But as a child growing up, I never felt that life was tough or that anything was insufficient. We didn't live particularly luxuriously, but we had enough. My dad, though juggling three jobs at that time, always came through for our family when we needed him, and he always found a way to provide for us. My dad was working in the bowling industry and sometimes, he would even bring us to work. I've always been very close to my dad. Growing up, he was always around for his family despite his busy schedule. I don't remember him not being around. He worked hard to make sure we didn't struggle. We had the best of everything. My dad, though not very well-educated, has always been self-sufficient, and he taught me to be the same too.
I've always had an affinity for fashion since young and my parents have always been supportive in my decisions, especially my mum. I found out that I really loved fashion and magazines when I was in ITE, and my mum sent me to sewing classes during the school holidays because I wanted to learn.
Q: How did your business start and what steps did you take to get things going in the beginning?
Adlina: When we first started, it was just me, my partner and my husband who ran the business. We didn't start off really well. We didn't have much capital and we weren't too keen on taking loans. The whole thing started in December 2012, when we came up with the idea of setting up a booth in a bazaar in Geylang selling brooches, just to earn the capital. We really started from scratch and grew from there.
Q: What should people know about the brand, Adlina Anis?
Adlina: Our brand is built around the idea of consistently delivering innovative and quality products. Our products are expensive for a reason. We don't do mass production so we can ensure the quality of our products.
As of now, Adlina Anis has a total of 15 staff and we try to make sure that each and every team member is well taken care of. We also take extra measures to ensure that they have a healthy and positive working environment to work in. I have my own production facilities in Jakarta so I have employees there. I make sure they work and live comfortably. I also have a single mum working in our local office and we try to assist her in every way possible.
In terms of the product, I am in charge of coming up with new creations and ideas as we have product launches every week. I am also the model and take charge of the editing of the photographs of the product.
Q: What has been the most effective way of raising awareness of your business and getting new customers?
Adlina: It used to be easier in the past when the industry was not as saturated as it is now. We gained popularity through YouTube and depended on roadshows and pop-up stores. Roadshows are a great way to spread awareness of a brand in an in-person, interactive format and reach potential customers you may not have been able to otherwise.
Q: What is your competitive advantage and why can't it be copied?
Adlina: We try to create and innovate all the time. To make it more relevant and up-to-date, we ensure that there is a new product launch every week so customers can always expect new and fresh items. We are continually looking for ways to stay ahead of the curve to provide added value to our consumers. Our products often stem from the consumer's needs and we try to listen to what they want. In addition, as an extension of our business, I also have a YouTube beauty and lifestyle channel that stores videos demonstrating numerous ways to style the hijab as well as videos on make-up.
Q: How do you find inspiration for your work?
Adlina: Opportunities for inspiration and greater creativity can be found around me every day – from travelling, to talking to customers to anything that stands before me. I get inspiration everywhere I go, by being very inquisitive. Everything is intriguing and different. Inspiration, truly, is everywhere. You just need to open your eyes to see it all around you.
Q: What is your biggest professional accomplishment to date?
Adlina: To be able to sustain the brand for five years now.
Q: Who would you say is an influential figure to you?
Adlina: In terms of the business and fashion industry, I don't have a specific person that I look up to because there are so many people who inspire me. Everyone is unique and different, and has their own way of inspiring. Everyone we meet has something to teach us.
But above all, the most influential figure for me personally would have to be my dad. His work ethic, determination and selflessness are just a few of the inspiring qualities he has. He has sacrificed so many things just so I can have the life that I do today.
Q: What's next for Adlina Anis?
Adlina: We are looking at diversifying our business and offerings. There are a few things in store for Adlina Anis, but we are taking it slow so as to ensure we keep within our financial capability. We are not looking into taking loans or investments. We also want to make sure we are sustainable so it is okay for the company to grow organically.
I also have a few other personal projects but the direction of every project eventually, is set to develop the Adlina Anis brand further.
Q: What advice would you give to Malay/Muslim women who want to start a business?
Adlina: Have courage in everything you do. You have to commit to being more courageous in both your professional and personal lives. Do not be afraid to make changes or you risk holding yourself back from opportunities and experiences that could be wonderful for you.
It may be a bit challenging as a woman, but take risks. Have courage to push the boundaries and make decisions. We'll never know what's in store until we try.
Nabilah Mohammad is a Research Analyst at the Centre for Research on Islamic and Malay Affairs (RIMA). She holds a Bachelor of Science in Psychology and a Specialist Diploma in Statistics and Data Mining.
Photo Credit: Karyawan/Ms Adlina Anis