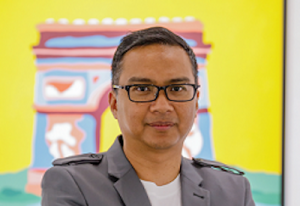 This interview was also published in Karyawan, A Magazine by AMP Singapore, April 2019, Volume 14, Issue 2.
As you wander into an art exhibition, have you ever wondered about all the steps it took to put the exhibition together? Who is the person behind this spectacular immersive assemblage? How does he or she decide which pieces to showcase? How long does it take to create an exhibition?
Most people think of curating as just selecting nice works for display but it is actually more than that. Museums and galleries rely on curators to deliver fresh perspectives and new voices into their programming. A curator's role is to acquire, care for, and develop a collection. He or she interprets a collection and arranges displays of it in order to inform, educate and inspire the public. Curating is also about communication between the curator and the artist, and of the artist's vision to execute the final display.
Indeed, curating is not an easy feat. The Karyawan team was honored to interview internationally renowned curator, Khairuddin Hori, who is a Curatorial Director and Partner at art gallery, Chan + Hori Contemporary. His portfolio includes being Deputy Director of Artistic Programming at Palais de Tokyo in Paris, Senior Curator at the Singapore Art Museum (SAM), overseeing Singapore's national collection for contemporary art, and Senior Curator at the Curatorial Development department of the National Heritage Board of Singapore.
Khairuddin has been known for his multidisciplinary and unconventional approach to curating influenced by his past experiences in theatre and art creation. His projects include "Atypical SG", an ongoing, travelling exhibition featuring seven Singaporean artists commissioned by Singapore Tourism Board; "DISINI", an outdoor public art exhibition and festival, as well as "Langkawi (1976-1980)", a solo exhibition by Malaysian maestro, Latiff Mohidin, at the Gillman Barracks visual arts precinct in Singapore in 2018; "Secret Archipelago" at Palais de Tokyo in Paris in 2015; "Welcome to the Jungle" at Yokohama Museum of Contemporary Art in Japan in 2013, and many more.
Q: Could you tell us about yourself and your family?

Khairuddin: I was born in 1974 in Singapore, so I will be 45 this year. I come from a working-class family. My dad was a pilot for ferries for the PSA Singapore, the ones that used to send passengers to Sentosa, Kusu and St John's islands, and my mom was a part-time domestic helper. I went to the Nanyang Academy of Fine Arts (NAFA) after dropping out of pre-university. I was one of the first three candidates who was admitted to the masters programme under LASALLE College of the Arts' Open University without a bachelor's degree. The other two are Lee Wen, a Cultural Medallion awardee, and Gilles Massot, a senior French artist who has been living in Singapore. I started off and am trained as an artist. I never really planned my career actually and I tried hard to survive as an artist in Singapore in my early days. I spent ten years trying to do just that full-time before I went on to work as an Arts Manager at Singapore Management University (SMU).
Q: What got you interested to become a curator?
Khairuddin: In the late 1980s and early 1990s when I first started, independent curators for contemporary art were a rarity here. Most of us who put together exhibitions and wrote essays and art-related articles were known simply as organisers. This role was usually filled by those of us considered to be more adept at the theoretical and conceptual framework, and also the ones who were seen as capable project managers. In my art practice, I was also very interested in administrative and bureaucratic structures I observed in the arts, so entrenching myself in the system as a curator within institutions appeared to be the most obvious extension of my artistic journey.
Q: How was your artistic journey like?                                                                                                                     
Khairuddin: I attribute a lot of what I do today to my personal life experience. In the late 1980s, as a teenager, I was lucky to have met and been in the company of what is today regarded as Singapore's senior contemporary artists. I then enrolled in NAFA, and at the same time was active in the local Malay theatre where I dabbled in acting, stage design, light design and later, directing. I also took time out to live in and observe the visual arts scenes in Yogyakarta, Indonesia and Chiang Mai, Thailand for a year each just to better understand their artists and the support structures surrounding them. I initiated many small and independent projects throughout the years, taking on and teaching myself the roles of fund raiser, marketer, designer, curator, artist and whatever that was needed to achieve the vision I had for each project. In immersing myself in such a wide genre of artistic practices, I met and learnt from many, and understood the struggles of both artists and administrators relatively well.
I started working in SAM as a curator after about two years of work at SMU. At that time, this was the most senior curatorial position at the museum, and I was in charge of all acquisition and the national collection for contemporary art. Six months into the job, I was promoted to Senior Curator and became the go-to curator for contemporary art at the National Heritage Board (NHB). I decided to stay at NHB when SAM was privatised in early 2014 but left to take on an invitation for the position of Deputy Director of Artistic Programmes at Palais de Tokyo in Paris, France.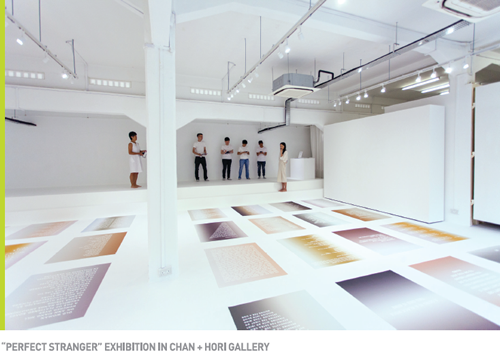 Q: How does your typical work week look like? 
Khairuddin: The work I do today is fairly new to me. Prior to this, I have never worked in a commercial gallery set-up, not even as a gallery sitter or intern. Today, I am the Curatorial Director and Partner of Chan + Hori Contemporary, a local gallery that bears my name. Here, I bring my experience and the methodologies from my time at the museum and art centre, often working beyond the frames of direct buying and selling of art that are common with commercial art galleries. I initiate and pursue projects outside the white walls of the gallery and together with my team, have mounted art festivals and travelling exhibitions. In Singapore, our gallery is the only private set-up that comprises, amongst others, three fully qualified curators.
There is really nothing typical about my schedule. It ranges from meetings with patrons and stakeholders, mentorship sessions and discussions with artists, sitting as guest of consultative committees, and speaking at conferences to travelling overseas to mount exhibitions or simply to visit projects by my peers. Work takes place not just at the office or within fixed hours, but also over weekends, holidays, and even at social events.

Q: How do you organise an exhibition?
Khairuddin: For me, the critical components in mounting exhibitions are a sound curatorial or conceptual framework, the artworks and artists, a capable team and co-presenting partners. A lot also hinges on the scale of the exhibition and available resources. Ideation, research, administration to realisation of an exhibition could take anything from one month to two years.
Q: How do you decide on the artists and artworks for an exhibition?
Khairuddin: I am known to have a special knack for spotting talents and artistic potential quite early in the careers of an artist. And due to my personal experience of being one, I am able to empathise with their struggles, both the young and senior. For me, each project or exhibition is a collaboration; so in a way, I do not unilaterally decide, but rather, come to an agreement or resolution for the exhibition with the partners, institutions, art and artists involved.
Q: What have been your highlights and challenges throughout your curatorial journey? 
Khairuddin: I constantly am surprised by the opportunities offered through my immersion in the arts. The highlight of my career is being pursued and personally invited by Jean de Loisy, one of the giants of the contemporary art world, to work alongside him at the Palais de Tokyo. Leading the artistic team there was one of my fondest memories that also came with my most challenging experiences. Palais de Tokyo is about tenfold larger than all the buildings of SAM put together. As its Deputy Director, I worked with artists who are regarded as amongst the best in the world today. In a place as prolific as that, every project I worked on and every statement I made as a curator rang loud internationally. Although highly stressful, it felt great to work with a level of professionalism that is way beyond what we are used to here in Singapore. On the other hand, working in Singapore gives me the opportunities to make a difference and carve meaningful paths in artmaking that are being written as we speak.
Q: What are some of the myths or misconceptions about your role? 
Khairuddin: The most common and most frustrating public perception of my role and that of an art business like ours is that we are powerful and wealthy entities that exploit artists to make large amounts of money while not contributing anything meaningful or long-lasting to the development of our cultural landscape.
First of all, a lot of resources and long-term planning go into the marketing of the artists' work, especially within a limited and non-mature marketplace such as Singapore. Our gallery take on a personal mission to offer mentorship and link the work of our artists to a network of curators, museums and institutions.
Ethnicity should also not be a factor or issue in curating, not even when one is focused on a specific geographical node or sociological issues pertaining to a certain culture. Having said this, we do have a decent number of Malay/Muslim curators in Singapore given the circle I know of.
Q: What contributions do you feel your role offers to society as a whole?
Khairuddin: There is a general societal tendency to place arts and culture last in the hierarchy of priorities. The arts is often seen as a frivolous, or good-to-have accessory. I have observed and experienced many times within the Malay-Muslim community where the arts is placed in close association with blasphemy. It appears as if there is a strong perception of the arts as excessive, and as unworthy as popular entertainment or even vices. These myopic viewpoints disregard the fact that we unconsciously immerse ourselves with the fundamental components of art on a daily basis. Just take a look at our choices in the design of the clothes we chose to wear as an extension of our personalities, the way we decorate and personalise our homes for warmth and comfort, and the aesthetics and uplifting architecture of our mosques. An understanding of the arts affords us to actively imagine and pursue ambitions, think creatively, as well as find ways towards resolution of challenging issues, and we become more mindful and appreciative of what we have and those around us.
Q: How would you describe your role in three words?
Khairuddin: Passionate, deliberate, and unconstrained.
Q: What do you enjoy doing outside of work?
Khairuddin: I enjoy exploring the Siglap, Katong and East Coast neighbourhoods that I have called home since I first moved into a studio here with several fellow artists more than 10 years ago. I especially enjoy being at the coast as it reminds me of the island we live on, its heritage and histories, and as a memory of my late father and his work at sea. Although I am musically illiterate, I also compose some music as a means of learning a foreign artistic language, and to add texture to my vocabulary of aesthetics.
Q: What are your future plans? Do you have any advice for budding Malay/Muslim curators?
Khairuddin: To be honest, I only have one plan for both life and work: to engage with everything I encounter and am challenged by as a pursuit and reflection in making myself a better person.
For aspiring curators, never feel entitled to anything and anyone. Do not use your race or social status as a ticket for privilege. Open up to the world before you as a learning opportunity.
Nabilah Mohammad is a Research Analyst at the Centre for Research on Islamic and Malay Affairs (RIMA). She holds a Bachelor of Science in Psychology and a Specialist Diploma in Statistics and Data Mining.
Photo Credit: Mr Khairuddin Hori