By Nabilah Mohammad
The rising costs of living, coupled with the recent economic challenges, are making low-skilled jobs more precarious with wages being pulled down. Last year, The Straits Times released an article on the increasing number of young recipients relying on ComCare's Short-to-Medium Term Assistance (SMTA); a scheme which provides temporary financial help for individuals who are unable to work or find a job. The issue has since garnered attention, and invited debates on whether youth poverty is really a cause of concern in Singapore. The Ministry of Social and Family Development (MSF) points out that its assistance schemes typically cover the bottom 20th percentile of households. In the absence of an official definition of poverty in Singapore, the number of ComCare recipients could be a proxy measure of the extent of poverty here.
According to the ComCare Trends Report, there was a 34% jump in young SMTA recipients from 2012 to 2016. Officials said that the growing number could be attributed to the tweaks made to the eligibility criteria. While that could have been the case, the same report revealed that the proportion of youth among the SMTA recipients remained constant during the same period, hovering above the 19% mark.
Youth poverty threatens not only those living in hardship, but also to the nation's stability, social fabric and economic future. If these young individuals at the bottom of the income distribution are left behind and find it increasingly difficult to climb, then we risk a perpetuation of poverty and a permanent group of people who do not contribute productively to the nation's economic prosperity. The impact will be more profound within the Malay community because we have a large proportion of youths.
Youth Bulge: A Demographic Dividend or a Ticking Time Bomb?
According to population data from the Singapore Department of Statistics, in 2016, approximately 27% of Singapore's resident population are youths. The same data also shows an increasing widening gap between the percentage of youths in the general population and the Malay community. While the percentage of youths in Singapore has slightly declined for the past decade, the number of youth among the Malay community has been increasing.
In fact, an overview of the Malay population pyramid depicts a bulge in the youth cohort. Youth bulge is broadly defined as a peak in young people's share in a population. Extensive empirical research has connected youth bulges with political violence. Being born into a large youth cohort usually means being faced with heightened competition and fewer opportunities, which could in turn, lead to a diminished self-esteem and escalating frustrations.
Indeed, the predominance of young adults can be a social challenge, one of which being the challenge of employment creation that can absorb the large cohort of youth that is set to enter the labour markets in the approaching decades.
In the same vein, an excess of youth isn't necessarily a bad thing. A large youth population can be a huge boon for the economy. As the young adults enter the working age, the dependency ratio is expected to decline. If these working age individuals can be fully employed in productive activities, other things being equal, the level of average income per capita should increase as a result.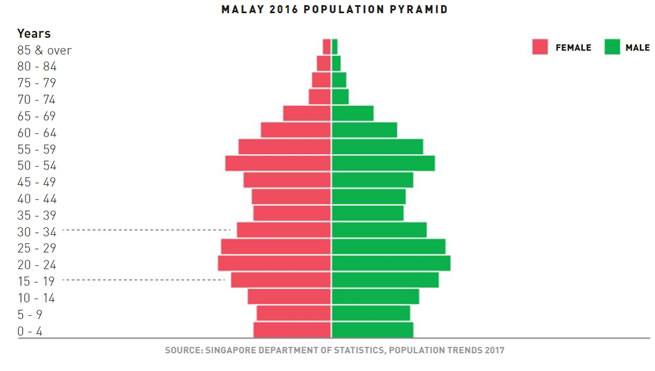 Youth Employment Situation in Singapore
In the 2016 National Youth Survey conducted by the National Youth Council (NYC), it was reported that youths were uncertain about their future, and they lack confidence in having sufficient opportunities to have a good career in Singapore. According to another ongoing small-scale study by the Centre for Research on Islamic and Malay Affairs (RIMA), a majority of the unemployed youths are facing few job opportunities and are more likely to accept employment that is not well-matched to their skills.
The Ministry of Manpower (MOM) Labour Report 2016 depicted that the increase in resident unemployment rates was more pronounced among residents aged below 30 and youths make up about 34% among those outside the labour force (not working and also not actively looking for a job).
Undeniably, unemployment is bad at any age, but evidence shows that people who struggle to find work during their initial years in the labour market will be at a serious disadvantage for the rest of their careers. They are likely to earn lower wages and face a higher probability of future joblessness compared to those who enter the workforce more successfully. Youths need the right assistance to achieve economic self-reliance.
Leaving No One Behind: Gaps in Existing Schemes
There are a number of schemes and assistance to help the low-income group in Singapore. However, most schemes are either generic or target the older group. The Workfare Income Supplement (WIS) and Workfare Training Scheme (WTS), for instance, caters to individuals above the age of 35. The existing model of workfare provides additional support to older low-wage Singaporeans who continue working and training to improve their employability but there is currently no equivalent for working youths.
Another scheme that has unintentionally neglected a group of potential youths is the SkillsFuture. The SkillsFuture credit begins at the age of 25 because it is designed to target working individuals. The drawback to this age criteria is that, there a number of working youths who are below the age of 25 who might want to tap on SkillsFuture. According to MOM, about 30% of the employed youths are under 25. In addition, a majority of the ComCare's SMTA recipients has secondary education at most, which means that they may have started working at an earlier age. With automation replacing an increasing number of low-skilled jobs, the most impacted will be this group of young individuals. If reskilling and upgrading is key to tide the waves of economic restructuring, we have to ensure that everyone gets equal access to opportunities.
Other existing schemes that do cater to the low-income youths are slightly problematic. The Home Ownership Plus Education (HOPE) Scheme, for instance, provides comprehensive benefits to young, low-income families that choose not to have more than two children. How does denying help to families with three or more children lead to better outcomes for them, or even the economy?
The SMTA scheme on the other hand, currently offers a higher cash quantum or extend the period of aid when recipients remain jobless. The problem with handouts is that it may create a perpetual cycle of dependence without actually making a difference. To continually give financial support to a capable but unemployed person may destroy initiative among recipients. As such, budgets should be devoted to creating more opportunities than offering handouts. The all too familiar quote "give a man a fish and he will eat for day but teach a man to fish and he will eat for a lifetime" seems to speak volumes.
Mindset towards the lower-income should change and strategies for the youths should be attuned. We can start by having the Singapore Budget 2018 orchestrated to empower young people in employment. This could include more youth-focused initiatives that enhance youth employability in the future economy. Investments should be tailor-made to the different employment needs of these youths.
While job creation is key to tackling unemployment, employment agencies should ensure that job growth does not come at the expense of lower-quality skill matches. Strategies should not only focus on the immediate benefit of filling a job vacancy, but also the long-term consequences of youth training and job placement. The European Commission's "Youth Guarantee", for instance, is an effective youth-employment-package model that we can learn from. It is a commitment by all state stakeholders to ensure that their youths receive a good quality offer of employment, continued education, apprenticeship, and traineeship within a period of four months of becoming unemployed or leaving formal education.
Continuing intervention is necessary during the youth's employment life cycle. Long-term schemes may be expensive and rigorous, but inaction would be much more costly.
Protecting the Young Gig Economy Workers
The recent proliferation of online platforms has changed the freelancing landscape and led to the emergence of the "gig" economy in Singapore. Much has since been debated about the sustainability of the "gig" workers. One sector that has attracted a growing number of youths is the private-hire car services such as Grab and Uber through its appealing idea of car-ownership, work flexibility and low minimum age requirement. According to both companies, about 20 to 30% of GrabCar drivers, and a quarter of Uber drivers, are below the age of 30.
The gig economy should not be a concern as long as these youths do it to supplement their main income. Gigs are a great cushion for youths to fall to, during a bad period such as job loss. The challenge however, is when youths are taking up these "gigs" full-time and fail to see the implications. The foremost concern is that, relative to standard wage and salary employment, the contingent workforce tend to have sporadic incomes, fewer rights to social protection, receive less training, does not value-add to resumes, and often have weaker career progression.
As the nature of working life changes, it seems fair to say that young gig workers will need to be agile and ready for retraining and new opportunities. The young people entering the labour market with limited experience bear the brunt of this new reality and the associated risks, so addressing these risks is one core argument for some intervention. The gig workforce may be small for now but it is likely to get bigger.
The first step is to ensure that young gig workers stay engaged and relevant. If these youths are not taking the initiative to become future-proof, perhaps policymakers should compel them to reskill and upgrade before their jobs get automated. The driverless technology is already taking up speed in Singapore. It could take ten to fifteen years for the technology to be widely deployed here so we should future-proof our youths while we still have time.
Budget could be allocated to incentivise gig workers who take up industry relevant skills or personal development courses, and also to compensate them for the time spent. They should also be encouraged to conduct their own fiscal planning, set up emergency funds, make voluntary CPF contributions, and buy basic medical insurance to safeguard their future. Subsidised financial planning and management courses can be conducted for gig workers within the first few months of work, and made mandatory just like the Private Hire Car Driver's Vocational Licence (PDVL).
The "gig" economy is a reminder that we must continue to look at the world in a new way. Youths are less constrained by institutional frames and are finding their own solutions to challenges of employment. They have demonstrated the ability to develop innovative solutions but they need support to help them gain the power, knowledge and skills to achieve these goals.
Nabilah Mohammad is a Research Analyst at the Centre for Research on Islamic and Malay Affairs (RIMA). She holds a Bachelor of Science in Psychology and a Specialist Diploma in Statistics and Data Mining.
This commentary was also published in Karyawan, January 2018, Volume 13, Issue 1.
Photo Credit: Karyawan