By Abdul Shariff Aboo Kassim
The Smart Nation initiative was officially launched on 24th November 2014. In his speech then, Prime Minister Lee Hsien Loong spoke of Singapore's vision to be an outstanding city, capable of attracting capital, talent and ideas; and pulling ahead like other cities with highly urbanised environments such as San Francisco, New York, London, Sydney and Shanghai.
The Smart Nation vision has its economic underpinnings. It has to do with how technology could be leveraged to sustain growth well into the foreseeable future and how the nation could thrive in a techno-competitive world. But Smart Nation is not all about policies, institutions and industries: there is also the micro aspect of it that affects  peoples' daily lives which Mr Lee devoted a considerable part of his 2014 speech to. He asserted that people could live "meaningful and fulfilled lives, enabled seamlessly by technology, offering exciting opportunities for all".
Three years on, in his National Day Rally (NDR) 2017 speech, again while stressing the instrumentality of Smart Nation in making the economy more productive, he expounded the potential of Smart Nation to benefit society: in creating jobs and business opportunities and in solving social problems.
There is thus a compelling reason even for the layperson to take an interest in this IT push and benefit from it.
How ready are Singaporeans for the Smart Nation enterprise?  Two groups are at risk of lagging behind: the elderly and the low-income.
The Elderly
As soon as we speak about the internet, mobile devices and applications, we tend to form mental pictures of the tech-savvy young hooked on state-of-the-art gadgets.  Certain groups tend to be excluded, in particular older Singaporeans. There is some basis for this perception. Infocomm Media Development Authority's (IMDA) Annual Survey on Infocomm Usage in 2015 shows that almost all who were aged below 35 were internet users (Chart 1), in contrast with those aged between 50 and 59 (73 percent) and those above the age of 60 percent (30 percent).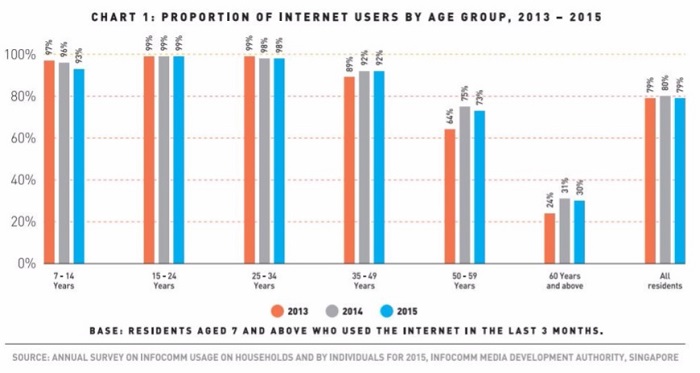 With Singapore's population ageing, infocomm usage among the elderly is a concern that needs to be addressed. When the Smart Nation initiative gains traction, and as the automation and online phenomena become pervasive, they will face an uphill task adapting and may become more dependent on family members.
However, the situation is not as dire as it seems. The elderly are making progress, as IMDA's data reveal. Moreover, the government is working to facilitate the transition to a digital economy. Mr Lee's 2014 speech promised that Smart Nation will be inclusive.
For a start, there will be Citizen Connect Centres where officers will help citizens access Government services as they become available online.  The "Silver Infocomm Junctions" provide affordable and customised IT training for seniors. To date, there are eleven such learning hubs located islandwide, offering affordable infocomm training and customised curriculum for seniors. Seniors are also able to enjoy follow-up tutorials for more in-depth learning at $5 to $10 per training hour.
Given that more than 80,000 seniors have been trained to use IT since November 2007, it appears that courses and workshops are effective but trends suggest that family members remain the key source of IT skills acquisition among the residents aged 50 and above (Chart 2).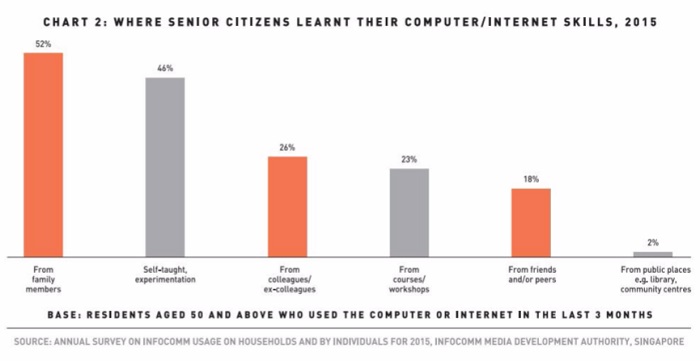 It is also interesting to note that 46 percent learned through experimenting. Data for those aged 60 and above, if available, would shed light on whether the same trends apply to this group. Considering that they face steeper learning curves – according to data from IMDA, only 25 percent have used the computer and 30 percent the internet in 2015 – family members and friends may need to set aside a larger amount of time to impart skills to this group of seniors, which may be infeasible. Self-teaching may also prove to be too onerous considering their starting points. Thus, courses and workshops remain the more practical solution in imparting IT skills to older seniors, with family members taking on a supporting role.
There are smartphones today that focus on the needs of the elderly. These phones should be taken with a grain of salt. Certain features are certainly helpful to the elderly: larger key pad, a mode that enlarges the size of icons and fonts, hearing aid compatibility, single button access to emergency services, built-in flashlight, reading magnifier et cetera. However, "no-frills" phones that offer only basic functions assume seniors are incapable of more complex operations, thus providing limited learning opportunities. They do not contribute much in preparing the elderly for a Smart Nation world.  IMDA's data provides evidence to the contrary: Chart 3 shows that the proportion of those aged 60 years and above who use portable equipment to connect wirelessly to the internet experienced a phenomenal growth, rising from a mere 9 percent in 2011 to 47 percent in 2015, a five-fold increase. Perceptions that the elderly lacks the capability to use modern devices does not hold water.
Affordability to the Low-Income
87 percent of resident households had access to a computer in 2015. The figure is the highest for resident households with school-going children (97 percent) and private housing (97 percent). There is a significant dip when those residing in public housing is taken into account (84 percent). While one can argue that 84 percent is still a large enough proportion, it remains a concern in the context of IT usage becoming the norm in daily affairs: the bottom 15 percent or so will be left behind.
According to IMDA, in 2015, the main reason cited for not having a computer at home is the lack of skills (45 percent). It is worth noting that only 31 percent said so in 2013.  The increase could be attributed to new functions and features being available in tandem with rapid IT progress, which adds to the amount of learning and adapting required, and costs.
8 percent in 2015 revealed that it is too costly for them to purchase a computer, down from 10 percent in 2013. Prices of personal computers (PCs) are expected to decline due to lower demand as consumers opting for tablets and smart phones see less need in upgrading their computers. Desktops and laptops will thus be more affordable to those from lower socioeconomic backgrounds. PCs provide a good start for those at the beginner's stage of IT literacy, in particular school-going children.
Prices of smartphones are expected to increase but the mobile phone market has seen an influx of cheaper brands such as Huawei, Xiaomi, ZTE, ASUS and LG. Even Samsung has lower-cost versions.
With a broadband plan or smartphone plan, it may nevertheless be a challenge for lower-income individuals or households to pay for a computer or a mobile device plus a broadband plan. But help is available. In 2014, IMDA launched a Home Access Programme, aiming to equip 8,000 households with broadband bundle package over four years. This scheme was expanded in April this year to reach out to another 16,000 households.  Each eligible household will receive 24 months of subsidised fibre broadband connectivity, with the option to own a tabletwhich they must keep over the entire duration.
Senior citizens from poorer households can look forward to affordable plans offered by Singtel (Silver Combo Mobile Plans), M1 (Senior Plans), StarHub (Active Stars) and Verizon (discounts for seniors).
Given the schemes rolled out by IMDA, falling prices of PCs, availability of lower-cost smartphones and discounted plans for seniors, it appears it is also possible for the lower-income to not fall behind in the Smart Nation era. However, they need to be aware of the available schemes and offers for devices in the market. Lack of awareness and tedious application processes have often been a reason why the poor have not come forward to take advantage of existing schemes. IMDA should assess the effectiveness of its outreach strategy periodically.
The Future Scenario
During his NDR speech, Mr Lee shared a scenario in Shanghai where making purchases even from roadside stalls have gone digital. Transactions are carried out not even through credit or debit card payments but by a technological notch higher: WeChat Pay or AliPay, applications that are linked to one's bank account and transactions that are completed by a mere scan of QR Code. Mr Lee hinted that Singapore needs to catch up, lamenting that visitors from China find Singapore "backward" in this regard.
The Smart Nation drive is also set to benefit businesses. Changing consumers' behaviour and boosting their digital capability allows them to streamline their operations, thus cutting down on operational costs. In the near future, it is likely that systems will be integrated so that businesses can carry out transactions more efficiently. The Monetary Authority of Singapore is already working on the financial aspect. In the pipeline is a unified terminal that can read different cards when consumers make payments, which saves businesses the trouble of having to make available multiple readers.
PayNow, the equivalent of WeChat Pay or AliPay, is likely to be used widely in the future given that it links the mobile phone, a device that almost everyone carries today, to bank accounts. In addition to this, Mr Lee also mentioned that Singaporeans will "soon be able to use QR Codes".
Such innovations are likely to introduce profound changes to how daily activities are conducted.  From purchasing groceries to paying bills to making online applications, all that may be needed is just a mobile phone with the relevant apps installed. This will be the norm tomorrow as using cash, cheques and forms are today.  It is therefore imperative that Smart Nation leaves no group at a disadvantage. Considering that the needs of vulnerable groups have been addressed to a reasonable extent, Singapore appears ready to embark on the Smart Nation journey.
Abdul Shariff Aboo Kassim is a Researcher / Projects Coordinator with the Centre for Research on Islamic and Malay Affairs (RIMA), the research subsidiary of the Association of Muslim Professionals (AMP). The views expressed in the article are his own.

This commentary was also published in Karyawan, October 2017, Volume 12, Issue 4