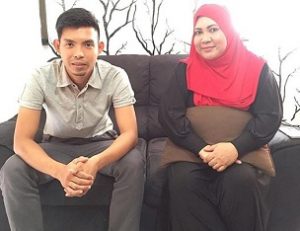 This interview was also published in Karyawan, A Magazine by the Association of Muslim  Professionals (AMP), July 2016, Volume 11, Issue 2.
One can never go wrong with food in Singapore. With the advent of technologies and a surge in entrepreneurial spirit and online transactions, more and more entrepreneurs are launching businesses from their homes.
Consumers who subscribe to these services do it mainly for the convenience, and in other cases for the procurement of products and services that are difficult to get in the mainstream markets otherwise. Home-based businesses can be just as lucrative as an office or industrial job. Whether you are interested in crafts, personal services, or food, home based businesses offer the freedom to work from home at your own pace and be your own boss.
Do what you love and the money will follow
The question is, how do you choose the right business to start? By following trends and anticipating what consumers will look for next? Or do you look for a gap in the market? Would it be a business you would enjoy investing in very long hours every week? Since most start-ups require a weekly commitment to long hours, finding something you love to do would be a key part of sustaining the business.
Most successful entrepreneurs love what they do. Regardless of whether you are working in a large corporation or running a home business, being passionate about what you do can make the difference. If you are passionate about what you do and excited about delivering a high quality product or service to your customers, your customers will pick up on your enthusiasm and pass on their satisfaction to friends and neighbours. Transferring this passion is one of the most important things you can do when you meet with your customers. Passion, along with quality inspires confidence, commitment and loyalty among your customers. All of these qualities are incredibly valuable to people who are looking to run home businesses, and that was how this unique Malay/Muslim business got started.
EATING-CRABS.COM
Two brothers, the late Muhd Hardy Abdul Aziz and Anuar Hidayat Abdul Aziz, left their careers to transform their passion for seafood into a successful business. They started EATING-CRABS.COM in mid-2013, with a mission to supply high quality live crabs and other seafood products straight to the customers, be it a home, a chalet or the local parks and beaches. Shopping at EATING-CRABS.COM means no more pushing through the crowds at your local wet market or searching for quality seafood products as everything can be purchased from one place and delivered at one go.
Hardy's wife, Siti Maimunah Razalie, better known as Maya among her customers, stepped in a few months following the launch of EATING-CRABS.COM to help the brothers with administrative duties. Unfortunately, Hardy lost his life in an accident in late 2014, leaving behind Maya and their two daughters, then aged four and two. The business is now solely run by Anuar and Maya.
Following is an emotional and inspiring interview with Maya and Anuar, as they recalled how the late Hardy transformed his passion into a successful business, and how the two of them braved through the odds and continued to build EATING-CRABS.COM.
How did EATING-CRABS.COM get started?
Anuar: We started way back in 2013, the business was a plan of my late brother and I when we were both working as audio visual engineers. We felt that things got stagnant and we needed to do something new. We then decided to venture into importing crabs and started off as distributors to restaurants. From then, there were demands for other kinds of seafood such as fish, prawns and squids so we started to bring in a few of those items. The first year was difficult as there was no customer base. EATING-CRABS.COM was solely supported by friends and relatives at the time but things slowly picked up and EATING-CRABS.COM became better known through words of mouth.
Maya: My late husband liked to eat seafood, especially crabs. He does not like eating out and knew that he was not the only one who thought that way. He preferred to stay home and eat seafood at home with his family. The business stemmed from his personal interest, from his heart. It was not about what was in trend or what was in the market at that time. The brothers went to Sri Lanka and Perak to research and study the market for about half a year. It was a tough period as the brothers had both left their careers so we were financially tight then.
What is different or unique about our business is that our services are personalised and customised to our customer's specific needs. Our business also focuses solely on seafood so you can be assured that we always try to provide the best quality.
What is the primary reason to start from home?
Maya: One main benefit is that we save a lot. We do not have to worry about paying the rental of retail space and additional monthly bills for electricity and water.
Anuar: We used to have a retail space at Vista Point but it was not fully utilised as items are freshly caught a day before delivery. If there is a retail shop, we will end up buying more and storing them. That would eventually affect the quality of our products.
What are the challenges or concerns you face in running your business?
Anuar: The challenge was getting our name out there as nobody knew about us or the services that we provided. We are blessed that we have not faced any discrimination so far. The wholesale market mainly consists of Chinese people but they have treated us very well and even gave us good prices for the supplies. They have helped us to build up our business in a way.
Maya: Another concern is trust. We needed people to trust us to clean, cut and choose the food they wanted to eat as customers do not get to choose the product themselves, like how they would if they buy from supermarkets. Customers have to trust both of us 100% to choose the best quality. It took time to gain customers' trust and for a chance to prove ourselves. Eventually, the quality of seafood did a lot of marketing for us. We had personal recommendations and reviews from customers. The Malay community were not afraid to share information, especially about food, and they recommended EATING-CRABS.COM to people they meet. Social media also helped us a lot. The challenge with using social media for our business, however, is that our followers need to constantly see something new. We cannot use the same photos and we need to keep brainstorming on new ideas on how to take better and new photos. There is a need to constantly engage our audience. I feel there is no competition or threats so far as I personally feel that EATING-CRABS.COM is special as we communicate closely with customers so service is customised and attended to personally.
Did you reached out for help in setting up your business?
Maya: There were investors who were interested in EATING-CRABS.COM during the initial stage. There was also someone who offered us help in terms of grant. Unfortunately, when we were just about to lift off and utilise the opportunities that were offered to us, my husband met with an accident. That was when everything spiralled down. We ended up not utilising any grants and for a moment, we lost the drive to pursue EATING-CRABS.COM.
What are your future plans?
Maya: The aspiration to grow EATING-CRABS.COM is definitely there. Now that things are doing well for EATING-CRABS.COM, there are hopes to do more. We do not want to be too greedy and move too fast but then end up not being able to meet the demands of our customers. One of the main obstacles in running our business is not having enough supplies to meet our customers' orders. We are also looking to increase our manpower to help with the delivery service.
Do you have any words of wisdom for aspiring entrepreneurs out there?
Maya: The idea has to be something different and unique. If you launch something that everyone else is doing, it will likely fail. And if you really want to do that, then you have to think of something different or better than the current one.
Anuar: It is about introducing something new to the community and you have to make sure you have enough capital to cover for at least two years. Secondly, do not be easily discouraged when you get ridiculed by others. Your friends and relatives may not be as supportive during the initial phase and everyone may express their lack of confidence but you should be resilient and not be discouraged. Also, do not expect to succeed overnight, or anytime soon. You have to be consistent, work every day and brainstorm for something new regularly. You have to sacrifice time with family and partners to be able to strive.
Nabilah Mohammad is a Research Analyst at the Centre for Research on Islamic and Malay Affairs (RIMA). She graduated from UniSIM with a Bachelor of Science in Psychology and is currently pursuing her Specialist Diploma in Statistics and Data Mining.
Photo Credit: Owners of Eating-Crabs.com